WELCOME TO
NELSON COUNTY, KENTUCKY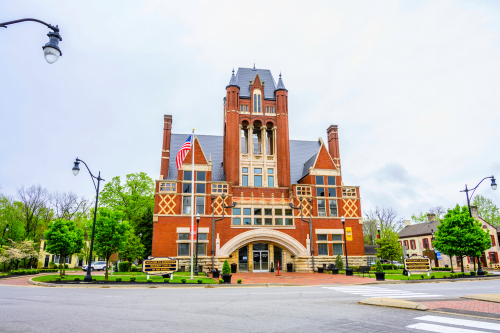 A beautiful place to live and work.
Nelson County is nestled in the heart of central Kentucky, just 40 miles southeast of downtown Louisville. Bardstown is the county's prized gem and is the second oldest town in the state of Kentucky. Nelson County is more than just history, it is a strategic business hub. Half of the U.S. markets are within a one-day drive, and major cities like Nashville, Cincinnati, and Indianapolis are within a four-hour radius. Major employers fall into a diverse array of industries, primarily in manufacturing and distilling, and include American Fuji Seal, Inc., Tower International, Heaven Hill Distilleries, Sazerac Distillers, Toyota Boshoku Kentucky, Johnan America, Inc., ORBIS Corporation, Flower Foods, Inc., and Takigawa Corporation America.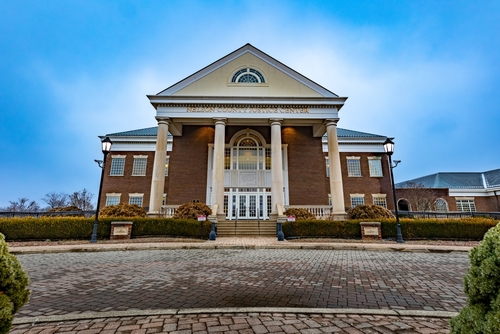 The community has seen an impressive 24.72% population increase over the last two decades driven by 60 industrial facilities, several corporate headquarters, and 10 international companies that are driving investment and high-paying jobs. That is why Site Selection magazine consistently ranks Bardstown in the Top 20 Micropolitan in the U.S. for company relocations.
People are also flocking to Nelson County because of the unmatched quality of life. Bardstown was praised as the "most beautiful small town in America" by USA Today. Additionally, it's often celebrated as the "Napa Valley of the Bourbon Industry" due to its significant role in whiskey and spirits production. The famous Kentucky Bourbon Trail weaves through the heart of Nelson County, attracting over 100,000 visitors from all around the world. It is also home to parks, annual events and festivals, diverse housing options and nine colleges and universities Within a 60-mile radius.
Nelson County by the Numbers
Nelson County

| Nelson County | 2012 | 2022 | % Change |
| --- | --- | --- | --- |
| Population | 44,401 | 47,607 | 7.2% |
| Gross Regional Product | $1,703,947,163 | $3,122,335,809 | 83.2% |
| Median Household Income | | $64,354 | |
| Per Capita Income | | $32,121 | |
| Poverty Level | | 8.1% | |
| Unemployment Rate | | 2.6% | |
| Labor Force Participation Rate | | 62.5% | |
| Average Commute Time | | 25.1 | |
| Number of Remote Workers | | 1,067 | |
| Percent of Remote Workers | | 4.9% | |
| Education Less than 9th Grade | 1,592 | 672 | -57.8% |
| Education: 9-12th Grade | 2,870 | 1,683 | -41.4% |
| Education: High School Diploma | 12,723 | 11,764 | -7.5% |
| Education: Some College | 5,337 | 7,685 | 44.0% |
| Education: Associate's Degree | 2,507 | 4,123 | 64.5% |
| Education: Bachelor's Degree | 2,617 | 4,224 | 61.4% |
| Education: Graduate Degree or Higher | 1,847 | 2,892 | 56.6% |
| Homeowner Vacancy Rate | | 0.9% | |
| Median House Value | | $169,500 | |
| Median Monthly Rent | | $844 | |
| Percent Occupied Housing Units | | 92.9% | |
Greater Louisville Region

Greater Louisville Region

| Greater Louisville Region | 2012 | 2022 | % Change |
| --- | --- | --- | --- |
| Population | 1,434,953 | 1,517,937 | 5.8% |
| Gross Regional Product | $69,126,603,887 | $106,360,978,850 | 53.9% |
| Median Household Income | | $71,033 | |
| Per Capita Income | | $34,919 | |
| Poverty Level | | 7.6% | |
| Unemployment Rate | | 3.5% | |
| Labor Force Participation Rate | | 62.4% | |
| Average Commute Time | | 27.0 | |
| Number of Remote Workers | | 59,276 | |
| Percent of Remote Workers | | 6.9% | |
| Education: Less than 9th Grade | 41,826 | 28,187 | -32.6% |
| Education: 9-12th Grade | 84,226 | 66,209 | -21.4% |
| Education: High School Diploma | 312,017 | 315,945 | 1.3% |
| Education: Some College | 219,747 | 230,831 | 5.0% |
| Education: Associate's Degree | 71,758 | 96,301 | 34.2% |
| Education: Bachelor's Degree | 146,043 | 192,022 | 31.5% |
| Education: Graduate Degree or Higher | 93,667 | 123,660 | 32.0% |
| Homeowner Vacancy Rate | | 1.3% | |
| Median House Value | | $178,593 | |
| Median Monthly Rent | | $847 | |
| Percent Occupied Housing Units | | 90.1% | |
United States

| United States | 2012 | 2022 | % Change |
| --- | --- | --- | --- |
| Population | 313,877,662 | 334,161,482 | 6.5% |
| Gross Regional Product | $15,912,802,819,300 | $24,767,834,615,600 | 55.6% |
| Median Household Income | | $69,021 | |
| Per Capita Income | | $37,638 | |
| Poverty Level | | 8.9% | |
| Unemployment Rate | | 3.6% | |
| Labor Force Participation Rate | | 62.7% | |
| Average Commute Time | | 26.8 | |
| Number of Remote Workers | | 15,061,684 | |
| Percent of Remote Workers | | 9.7% | |
| Education: Less than 9th Grade | 12,837,123 | 10,919,561 | -14.9% |
| Education: 9-12th Grade | 17,391,417 | 14,341,868 | -17.5% |
| Education: High School Diploma | 58,751,740 | 60,598,861 | 3.1% |
| Education: Some College | 44,359,412 | 45,588,261 | 2.8% |
| Education: Associate's Degree | 16,032,807 | 20,324,521 | 26.8% |
| Education: Bachelor's Degree | 37,281,933 | 47,929,733 | 28.6% |
| Education: Graduate Degree or Higher | 22,125,353 | 30,620,664 | 38.4% |
| Homeowner Vacancy Rate | | 1.2% | |
| Median House Value | | $244,900 | |
| Median Monthly Rent | | $1,163 | |
| Percent Occupied Housing Units | | 88.8% | |